As the semesters wrap up and the summer months begin in the Northern Hemisphere, you might find yourself with a little more time to catch up on your digital lit reading. Today we begin a weekly reading series featuring recent critical and creative works in electronic literature by ELO members.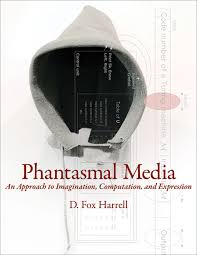 The first scholarly book is Phantasmal Media: An Approach to Imagination, Computation, and Expression by D. Fox Harrell.  Published in 2013, Harrell's conceit of the phantasm offers him a framework for exploring the unseen figures (of speech, self, and thought) moving within within computational media.  Among the many featured texts in the book, Fox presents two of his works Living Liberia Fabric and The Girl with Skin of Haints and Seraphs, as he discusses aspects of GRIOT, his narrative generation system.
In addition to serving on ELO's Board of Directors (currently on temporary leave), Harrell is an Associate Professor of Digital Media at MIT where he directs the Imagination, Computation, and Expression Laboratory.
From the publisher: Read more Summer eReading: Phantasmal Media