June 19, 2014 in Conference, ELO, Events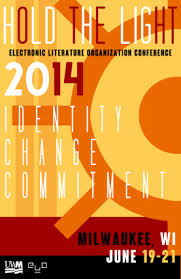 This week we preempt our Summer eReading series to bring you a host of works featured in the 2014 ELO Conference: Hold the Light June 18-21 in Milwaukee, Wisconsin.  And conference organizers Stuart Moulthrop, Marjorie Luesebrink, Sandy Baldwin, and Kathi Inman Berens have brewed up a lake of Milwaukee's finest.  You can download the full program.
The conference features three electronic galleries.  The first is on-site, featuring a wide variety of works by new and established authors. The second is online, the Media Arts Gallery, featuring a virtual exhibition of the works from the juried show.  The third is the Gallery of E-Lit 1st Encounters, which feature first time e-lit authors – or at least those new to ELO.