September 23, 2013 in ELO, Events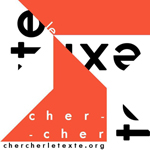 ELO is proud to announce the launch of the 2013 conference "Chercher le texte" in Paris, 24-27 September, 2013.   This marks the first international conference ELO has held, but the 5th conference since State of the Arts in 2002. The Paris conference features works from over 100 artists from 14 countries as well as a complete scholarly program of academic presentations.  Events begin Sept 23 with a meeting of the CELL (Consortium on Electronic Literature) group, a debate and performances at Centre Pompidou.
With Paris as its backdrop, the wide variety of events will be held at historic cites in the coeur of Western Europe's artistic body, including BPI – Centre Pompidou, Labo BnF | François-Mitterrand, École nationale supérieure des Arts Décoratifs (EnsAD), and Le Cube – Centre de création numérique.