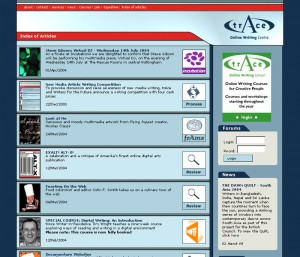 The ELO is pleased to announce that it will serve as the archival home for the digital materials associated with the trAce Online Writing Centre. trAce, founded by Dr. Sue Thomas and located at Nottingham Trent University (Nottingham, England), was the leading electronic literature community from 1995-2005, and through its journal, online writing courses, fellowships, conferences, and other activities, impacted the field far beyond the UK.
We are currently inventory and preparing the files for online access. A link to them will be available at this site. Along with the files scholars will find an introduction to the archives produced by Thomas that will contextualize them culturally and historically.
In the meantime, we encourage scholars to visit ELMCIP's entry for trAce, located at http://elmcip.net/organization/trace/ and read J. R. Carpenter's "Traces of the trAce Online Centre (1995-2005)" at http://jacket2.org/commentary/traces-trace-online-writing-centre-1995-2005.