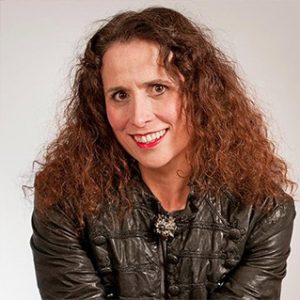 At the ELO 2022 Conference, we announced the leadership transition from Leonardo Flores to Caitlin Fisher, as Flores completed his three-year term. Fisher, who had previously served as Treasurer and Vice President, assumed office on July 1. Along with that change, Rui Torres took on the role of Treasurer, and Mark Sample, the role of Secretary. Anastasia Salter continues in her role as Vice President.
The Director of both the Immersive Storytelling Lab and the Augmented Reality Lab at York University in Toronto, where she is also Professor and Chair of the Department of Cinema and Media Arts, Fisher has long been a member of the ELO Board and an active member of our digital literary community. She most recently assisted as International Coordinator for the ELO 2021 conference. A foundational member of ELO, her work was first celebrated in 2001, when she won the Electronic Literature Organization's Award for Fiction for 'These Waves of Girls.'
Fisher's Presidency marks the first time the institutional home of the Electronic Literature Organization will move outside of the United States: "bringing the ELO to York University – a large, urban, innovative and incredibly diverse university – represents an exciting opportunity for both organizations" she said. During her talk at the Como conference, Fisher expressed her optimism for ELO as she takes us into this next era. She also thanked Flores and the rest of the Board for their service to the community.
ELO has an all-volunteer board with members serving renewable 3-year terms. See a complete list of the current Board of Directors here.
Caitlin Fisher Bio:
Caitlin Fisher directs both the Immersive Storytelling Lab and the Augmented Reality Lab at York University in Toronto where she held the Canada Research Chair in Digital Culture for over a decade. A co-founder of York's Future Cinema Lab and a former Fulbright Research Chair, Fisher is the recipient of many international awards for digital storytelling including the Electronic Literature Award for Fiction and the Vinaròs Prize for her AR poetry. She also serves on the international Board of Directors for HASTAC – the Humanities Arts Science Technology Alliance and Collaboratory. She is currently working on an AI Storytelling project funded through the Social Science and Humanities Research Council of Canada (SSHRC) and recently completed a SSHRC project exploring souveillance, Humanistic Intelligence and phenomenological AR for next-generation headsets. She is also co-PI on a New Frontiers grant investigating "Immersive digital environments and indigenous knowledges: co-creation in virtual reality environments to advance artmaking, digital poetics and reconciliation." She recently directed Fiery Sparks of Light, a volumetric AR project featuring iconic Canadian women poets (Atwood, Brossard, Tolmie, Lubrin). Produced with the participation of Telefilm Canada, 'Fiery Sparks of Light' is a CFC Media Lab and York University Immersive Storytelling Lab Co-Production in Partnership with Griffin Trust For Excellence In Poetry.
About York University: "York is a leading international teaching and research university and a driving force for positive change, empowered by a welcoming and diverse community with a uniquely global perspective."