In an effort to preserve works of electronic literature, the ELO has developed the ELO Repository for its Electronic Literature Archives (ELA) of online journals, works of electronic literature, community archives, and other digital materials. Partnering with us in this endeavor is the Electronic Textual Cultures Lab at the University of Victoria and Compute Canada as well as Washington State University Vancouver's Electronic Literature Lab and the university library.

One of the first archives the ELO has been given to manage is Turbulence.org and its archival site Archive.turbulence.org. Access to Turbulence's hundreds of commissioned works will become available at its new home in January 2017. The ELO has also been given the trAce Online Writing Centre digital files dating from 1995-2005. Access to trAce's many resources will be available in the spring 2018. Also included in ELA is the ELO's own collection of videos and audio tapes from performances/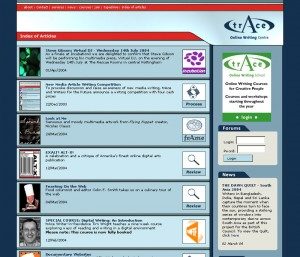 readings and conference presentations from the 1990s onward, recorded on VHS, cassettes, and mini-cassette by members of the Electronic Literature Organization. ELL staff have digitalized the materials, making videos available on Vimeo and YouTube and audio files available on SoundCloud. Also part of this collection are works of electronic literature produced on diskette and CD-ROM from two main sources: entries to the 2001 Electronic Literature Awards and works to show at the State of the Arts conference in 2002.
Some of ELO's current holdings include:
Turbulence.org: 344 works of e-lit and Internet art, most now accessible, commissioned by founder Helen Thorington and Jo-Anne Green.
trAce Online Writing Centre: 34 works from the journal (frAme), published by this influential UK organization founded by media theorist Sue Thomas.
The ELO Collection: Video collection of 31 readings/performances by 10 Â e-lit artists, 1999-2006
ELC3: production files for publication of Electronic Literature Collections, Volumes 1-3, amounting to 109 works.
Pathfinders: 104 video clips, 204 digital images, and three audio files, as well as all raw files relating to this documentation project, funded by the National Endowment for the Humanities, 2013-2015.
BeeHive Hypertext/Hypermedia Journal: 242 digital files from all six volumes of e-lit and criticism published from 1998 to 2002 by Talan Memmott.
Individual artists' archives: E-lit and digitized materials (e.g. manuscripts, publishing contracts, art) made available to the ELO for public access via the ELA by artists Sarah Smith, David Kolb, and Rob Kendall.
N. Katherine Hayles' personal collection of 38 rare floppy disks and CD-ROMs published by the Voyager Company and other publishers as well as self-published works by electronic literature artists.
The Museum of the Essential and Beyond That, an online museum founded and curated by Brazilian artist Regina Pinto that hosts 165 works by artists from across the globe.
ELO has also received journals Riding the Meridian, Word Circuits, Cauldron & Net, and The Iowa Review Web, as well as individual artist collections The Marjorie C. Luesebrink Collection, The Deena Larsen Collection, The Richard Holeton Collection, and The Alan Sondheim Collection.
Visitors to the site can also access the works themselves hosted in ELA easily by the following the link from its page in the Repository or by going to  the accompanying Repository website.