Join the Electronic Literature Organization at an evening of readings and performances at Babycastles, located at 145 W. 14th St., NY, NY
The event takes place on Saturday, January 6, from 8-10 p.m. It is free and open to the public.
Featured Artists and Works Performed:
Nick Montfort, "The Truelist"
Stephanie Strickland, "Hours of the Night"
Andrew Demirijian, 'Pan-Terrestrial People's Anthem'.
Laura Zaylea, "Style Guide for Erasing Human Dignity"
Anastasia Salter, "Eliza and Andromeda," by Anastasia Salter and Deena Larsen
Kyle Booten, "Gymnasion"
Bill Bly, We Descend, Volume 3
Nick Montfort, "The Truelist"
Nick Montfort's computer-generated books of poetry include #!, the collaboration 2×6, Autopia, and The Truelist, the first in the new Using Electricity series from Counterpath. Among his more than fifty digital projects are the collaborations The Deletionist, Sea and Spar Between, and Renderings. His digital artwork was shown this summer at Babycastles in New York and in Boston City Hall. He has six books out from the MIT Press, most recently The Future (in the Essential Knowledge series). He is professor of digital media at MIT and lives in New York and Boston. You can find this with all the italics in place here: http://nickm.com/me.html#summary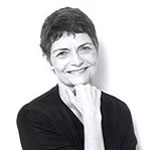 Stephanie Strickland, "Hours of the Night"
Stephanie Strickland has published 8 books of poetry, most recently Dragon Logic and V: WaveTercets / Losing L'una, and 11 works of electronic literature. Zone : Zero, book + CD, includes the poem slippingglimpse which maps text to Atlantic wave patterns. Recent digital poems include House of Trust with Ian Hatcher and Hours of the Night with M.D. Coverley. A volume of  New & Selected is forthcoming in early 2019. http://stephaniestrickland.com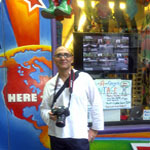 Andrew Demirijian, "Pan-Terrestrial People's Anthem"
Andrew Demirjian is an interdisciplinary artist who creates experimental assemblages of image, sound and text. His practice features a heightened attention to the role of sound and language and uses constraint systems, chance operations and remixing to produce the work. The pieces take the form of interactive installations, digital poems and audiovisual performances. Andrew's work has been exhibited at The Museum of the Moving Image, Fridman Gallery, The Newark Museum, Eyebeam, Rush Arts, Fieldgate Gallery, the Center for Book Arts, LMAK Projects and many other galleries, festivals and museums. The MacDowell Colony, Puffin Foundation, Artslink, Harvestworks, Clocktower Gallery, Bemis Center, LMCC and the New Jersey State Council on the Arts are among some of the organizations that have supported his work. Andrew teaches theory and production courses in emerging media in the Film and Media Department and Integrated Media Arts MFA program at Hunter College. In 2018 he will be a Fellow at the MIT Open Documentary Lab working on a language analysis and visualization project.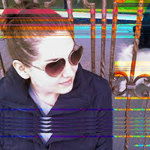 Laura Zaylea, "Style Guide for Erasing Human Dignity"
Laura Zaylea is a media artist and Assistant Professor at Temple University in Philadelphia. Recent e-lit works include the web-based multimedia novel Closer Than Rust and the "locative romance" and grammar guide Speak2MeInCode. She is currently working on an interactive documentary about LGBTQ families, which can be found at www.LGBTQ-family.com. Laura holds a BA from Brown University and MFA from the San Francisco Art Institute. More about her creative work can be found at www.LauraZaylea.com. Closer Than Rust – https://laurazaylea.com/creative-work/ctr/. Speak2MeInCode – https://speak2meincode.com/.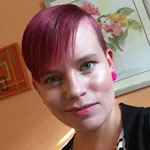 Anastasia Salter, "Eliza and Andromeda," by Anastasia Salter and Deena Larsen
Anastasia Salter is an Assistant Professor of Digital Media at the University of Central Florida. She is the author of Toxic Geek Masculinity in Media (with Bridget Blodgett), Jane Jensen: Gabriel Knight, Adventure Games, Hidden Objects, What is Your Quest? From Adventure Games to Interactive Books, and Flash: Building the Interactive Web (with John Murray).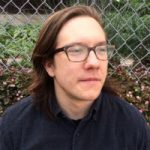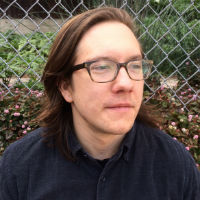 Kyle Booten, "Gymnasion"
Kyle Booten is a Postdoctoral Fellow in the Neukom Institute for Computational Science at Dartmouth College.  His recent work has appeared or is forthcoming inFence, Western Humanities Review, Poor Claudia, and the proceedings of the North American Chapter of the Association for Computational Linguistics. He holds a PhD from UC Berkeley and an MFA from the University of Michigan, Ann Arbor.  You can see his website at https://kylebooten.me.
Bill Bly, We Descend, Volume 3
Bill Bly is the author of We Descend, an ongoing hypertext archive of writings begun in the 1980s with a fountain pen on notebook paper jammed in a clipboard: Volume One came out on floppy disk; Volume Two is on the web; Volume Three is under development. He has won the Stanley Drama Award and (with John McDaid) the John Culkin Award for Outstanding Praxis in Media Ecology. Bill was a founding member of the Hypertext Writers Workshop, and served as recorder for the legendary Cybermountain Colloquium. He has taught hypertext theory and practice at New York University and Fordham University, and was Director of Writing Programs at Wagner College. He lives in Mexico.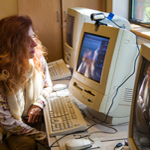 The emcee for the evening is Dene Grigar, a curator, e-lit artist, and digital preservationist from the Creative Media & Digital Culture Program at Washington State University Vancouver. She directs the Electronic Literature Lab and is President of the Electronic Literature Organization.
Sponsors include the ELO, Babycastles, & Washington State University Vancouver.