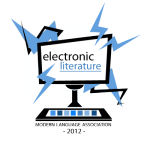 Electronic literature will take center stage at the 2012 Modern Language Association conference in Seattle thanks to Board Member Dene Grigar, Lori Emerson, and Kathi Inman Berens. The exhibit, the first of its kind at MLA, will feature over 160 works, including ELC I & II. Also featured in this collection, celebrating its 25th anniversary: Invisible Seattle, the database novel written by The Invisibles in collaboration with the people of Seattle. Kathi Inman Berens has curated an additional exhibit of e-lit works created for mobile devices.
In conjunction with these collections, Lori Emerson has organized an evening performance of electronic literature at the Richard Hugo House. The readings will feature Jim Andrews, Kate Armstrong, Ian Bogost, John Cayley, Erin Costello, Aaron Angello, Marjorie Luesebrink, Mark Marino, Nick Montfort, Brian Kim Stefans, and Stephanie Strickland.
Exhibit Location and Time
"Electronic Literature" takes place in Seattle, WA, at the Washington State Convention Center in Room 609. Exhibit times are:
Thursday, 5 January, 12 noon to 7:00 p.m.
Friday, 6 January, 9:00 a.m. to 7:00 p.m.
Saturday, 7 January, 9:00 a.m. to 7:00 p.m.
E-Lit Reading
Friday, 6 January, 8 p.m to 10.30 p.m.
Richard Hugo House 1634 11th Ave.
Seattle, WA 98122-2419