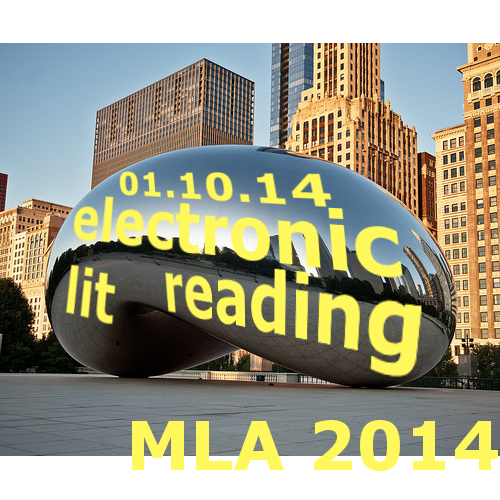 Off-site e-lit reading at MLA
Flaxman Library Special Collections Reading Room
School of the Art Institute of Chicago
Friday, Jan. 10, 8pm
Coordinated by Mark C. Marino 
Carrying on an MLA tradition, the Electronic Literature Organization is sponsoring an off-site reading of new works of digitally born literature. Â Priority will be given to work of high literary value and unforgettable, earth-shattering presentations. Â Artists new to electronic literature are especially encouraged to submit!
To participate, please send your proposals (200 words or less) and brief bio (150 words or less) for 10-minute presentations/performance. Â Sorry, no remote presentations via Skype or other video conferencing software.
Deadline for proposals Dec 31, 2013
Response by Jan. 3rd
email submissions to: markcmarino at g mail
Flaxman Library is located on the 6th floor, 37 S. Wabash St., Chicago, IL, 60603