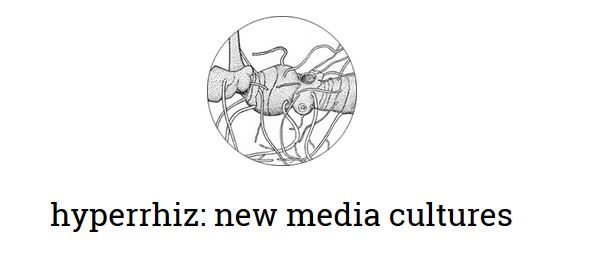 Announcing the publication of Hyperrhiz: New Media Cultures, issue 11, guest edited by Mark C. Marino and Rob Wittig, putting the spotlight on netprov.  "Netprov" is a term Wittig coined for "networked improv narratives," and many of the works and essays in the new issue reflect on and develop the meaning of that term.
The issue includes critical essays by Kathi Inman Berens, Lauren Burr, Leonardo Flores, Davin Heckman, and Peggy Weil and includes an hour-long compilation of interviews  with an international array of creators of electronic literature, conducted by Talan Memmott.
Along with Twitter-based netprovs, the issue also features creative works, including bot poetry authors, netprovs, to ARGs, to interactive fiction, to electronic poetry. Artists include Jean-Pierre Balpe, Mez Breeze, Deena Larsen & Maje Larsen, Peter McDonald and Patrick Jagoda, Reed Gaines and Arianna Gass, and Glen Gatin along with Wittig and Marino.
The issue also features a review of Richard Rinehart and John Ippolito's Re-Collection by Eddie Lohmeyer and Lori Emerson's Reading Writing Interfaces by Kathi Inman Berens.
Hyperrhiz: New Media Cultures, the peer-reviewed sister journal of Rhizomes: Cultural Studies in Emerging Knowledge, is published twice-yearly. Â Hyperrhiz: Â provides a forum for experimental new media projects (both critical and creative) located outside or across current disciplinary boundaries. Its editor is Helen J. Burgess of North Carolina State University.
For more about Hyperrhiz, go here: http://hyperrhiz.net/about-hyperrhiz.html