The first (to our knowledge) electronic literature conference in Dubai has commenced.  Hosted at RIT in Dubai, the conference was organized by Babak Elahi, Reham Hosny, and Patrick Lichty, Jonathon Penny.  Under the patronage of H. E. Lt General Dahi Khalfan Tamim, deputy chief of police and public security in Dubai.  ELO is proud to be a partner of this first-time event, continuing the spread of electronic literature around the world.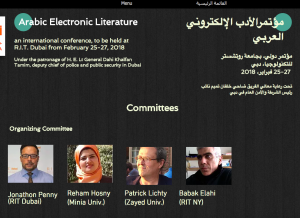 Along with presentations and a gallery, the conference includes workshop called "Hacking Electronic Literature" by Hosny, Dene Grigar, and John Barber.  Featured keynote speakers are Katherine Hayles, Zohor Gourram, and Karim Sultan.
Follow the conference hashtag: #arbicelit.
See the full conference program and more here:
https://www.arabic-elit.org/schedule
Below is the full conference program:
Read more Arabic E-Lit Conference in Dubai (Feb 25-27) Commences