The first (to our knowledge) electronic literature conference in Dubai has commenced.  Hosted at RIT in Dubai, the conference was organized by Babak Elahi, Reham Hosny, and Patrick Lichty, Jonathon Penny.  Under the patronage of H. E. Lt General Dahi Khalfan Tamim, deputy chief of police and public security in Dubai.  ELO is proud to be a partner of this first-time event, continuing the spread of electronic literature around the world.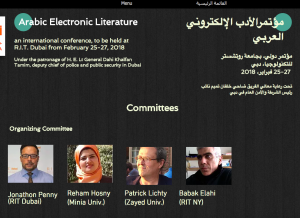 Along with presentations and a gallery, the conference includes workshop called "Hacking Electronic Literature" by Hosny, Dene Grigar, and John Barber.  Featured keynote speakers are Katherine Hayles, Zohor Gourram, and Karim Sultan.
Follow the conference hashtag: #arbicelit.
See the full conference program and more here:
https://www.arabic-elit.org/schedule
Below is the full conference program:
Conference Programme.
Arabic Electronic Literature: New Horizons and Global Perspectives
Unless otherwise indicated, all conference sessions will convene in the Conference Room (130). The Exhibition will be displayed in the first-floor reception outside the conference room.
Papers will be delivered either in Arabic or English. Simultaneous translation will be available.
Sunday, February 25
Monday, February 26
9:00-10:30 — Session Four — In Theory II
Chair—Ian Peterkin, RIT-Dubai
​Dene Grigar (Washington State University Vancouver, USA) — "Preserving a Cultural Legacy of Born Digital Literature"
​Abdel Kader Shaibany (Higher Colleges of Technology, UAE)— "Narrative Theory in the Digital Novel: Interactivity between Hypertext Techniques"
​John Barber (Washington State University Vancouver, USA) — "Sound and Electronic Literature"
10:45-12:15 — Session Five — Closer Looks
Chair— Zohor Gourram, Mohammed V University, Morocco
​Moshtaq Ma'an (University of Baghdad, Iraq) — "Discovery as an Interaction: Perspectives on "Infinites of the Fire Wall"
​Jeneen Naji (Maynooth University, Ireland) — "Flickering Signifiers: Omar Khayyam in the Cave"
​Doris Hambuch (UAE University, Al Ain) — "A Cat's Wisdom in Electronic Graphic Art by Khaled Al Jabri"
12:00-20:30 — ELEKTRONIYA: An Exhibition of Original Creative Works of e-Literature
Artists:
Abdelouahid Stitou; Rafaat El Senousi; Moshtaq Ma'an; Mark Marino, John Murray, Joellyn Rock, and Ken Joseph; Mohamed Abdelghani Yuzerssif and Reham Hosny; John Barber; Amira Hainafy
12:30-1:30 — Lunch and Networking — "Remarks from Patron"
Chair—Imad Saleh, Université Paris 8, France
​Sallam Al Gamal (University of Babylon, Iraq)— "The Effect of Medium on Conveying Literature"
​Serge Bouchardon (Sorbonne University, Université de technologie de Compiègne, France) — "Translating a Performance on
Stage into an Interactive Application on Screen"
​Yasser Selim (Al Buraimi University College, Oman)— "Cyberperformance: Towards a Transnational User-Response Theory"
Chair— Jonathon Penny, RIT-Dubai
​Philippe Bootz (Université Paris 8, France) with Xavier Hautbois — "Elpenor"
​Moshtaq Ma'an (University of Baghdad, Iraq) — "Infinites of the Fire Wall"
​Jeneen Naji (Maynooth University, Ireland) — "Flickering Signifiers: Omar Khayyam in the Cave"
​Mohamed Habibi (Saudi Scholar and Poet)— "The Vision of Hope"
​Dene Grigar (Washington State University Vancouver, USA) — "Curlew"
​Serge Bouchardon (Sorbonne University, Université de technologie de Compiègne, France) — "Loss of Grasp and DO IT"
3:15-5:45 — Session Seven — Original Work in Performance
6:00-7:00 — Banquet (Courtyard)
7:00-8:00 — Plenary Speech —(Room 130) N. Katherine Hayles Duke University, USA
"Electronic Literature in Context: Literary Text as Cognitive Assemblage" Introduced by Babak Elahi, RIT-New York, via weblink Sponsored by RIT-New York, College of Liberal Arts
8::00 — Free time
Tuesday, February 27
9:00-10:30 — Session Eight — In Translation: Genre, Language, and Being
Chair—John Dayton, RIT-Dubai
​Mariusz Pisarski (University of Warsaw, Poland) — "Exploratory Translation, Adaptation, Remix: Strategies for Repurposing in Eastern and Central Europe"
​Abdulmohsen Alonayq (Lancaster University, England)— "Crowdsourcing Translation for Digital Arabisation Projects: A Narrative Perspective"
​Mohamed Hussein Habib (University of Babylon, Iraq)— "Cyborgs: The Coming Electronic Heroes"
10:45-12:15 — Session Nine — Tangled Webspace: ePublication, eMarketing, eCriticism
Chair—Khalid Khawaja, RIT-Dubai
​Mohamed Habibi (Saudi Scholar and Poet) — "Publishing on Twitter: Effects on Poetry and its Reception"
​Mohamed Rayyan (Egyptian Scholar, via weblink) — "Literature and Electronic Marketing on Social Media"
​Kourad Nadjet (Université Tahri Mohammed Bechar, Algeria) — "Interactive Criticism via Social Media: Facebook as an Example"
12:15-1:30 — Lunch and Final Keynote — Room 130 Karim Sultan Musician
Director, Barjeel Art Foundation, Sharjah Introduced by Patrick Lichty, Zayed University, UAE
Chair— Moshtaq Ma'an, University of Baghdad, Iraq
​Fahd Al Bakr (University of Ha'il, KSA) — "Social Connection Channels and Creative Writing"
​Leila Berhouma (Université de la Manouba, Tunisia, via weblink) — "From Digital Blogging to Scenario: Language and Artistic Styles"
​Haider Wasmi (Islamic University College, Iraq) — "Digital Criticism and the Spaces of Writing"
1:45-3:15 — Session Ten — In Medias: Creativity and Criticism in (Social) Space
3:30-3:45 — Close Conference (Drs. Penny, Hosny, and Al Assaf)
4:00-4:30 — Brief Meeting of Organizing Committee