ELO is proud to announce the winner of this year's Marjorie C. Luesebrink Career Achievement Award Kate Pullinger: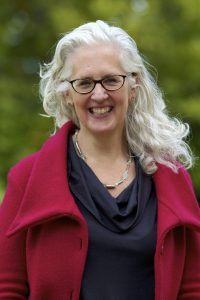 Kate Pullinger: https://www.katepullinger.com/about-kate-pullinger/
As a print, film, stage, and new media writer, Kate Pullinger has brought these worlds of literature together for over three decades. Early on, she taught online at trAce, and for years she has supported many critical initiatives to introduce digital fiction and digital literacy in schools in the UK and internationally. As a celebrated print author, including winning the 2009 Governor General's Award, Kate has done much to extend awareness of electronic literature, while creating some of its most innovative projects.
She developed "Lifelines," accompanied with teacher's book and successfully used in many schools. She is also one of the creators of "Inanimate Alice," a pedagogical blockbuster that has been translated into French, German, Italian, Spanish, Indonesian, Japanese, and Portuguese. Inanimate Alice: Episode Six – The Last Gas Station was the 2016 Honorable Mention for the Robert Coover Prize. She has been the driving force behind a variety of workshops, programs, initiatives, and more to support developing the future of e-lit. Pullinger developed Ambient Literature Project. She also co-wrote the 2020 scholarly book: Ambient Literature Towards a New Poetics of Situated Writing and Reading Practices. Pullinger has brought the concept of electronic literature to tens of thousands of people, including the UK Prime Minister, through the "Letters to an Unknown Soldier" Project.
Kate Pullinger has supported ELO conferences and has advised ELO throughout the decades. She is also an editorial director of "The Writing Platform" that since 2013 is a wonderful digital resource of knowledge about digital storytelling for writers.
Her most recent digital fiction, "Breathe," a ghost story that knows where you are, is available for free on your phone. It was shortlisted for the New Media Writing Prize in 2019. She also wrote "Jellybone," a novel for smartphones in 10 episodes.
According to the judges,
"Kate Pullinger's fictional explorations of digital media for expressive purposes challenges the rhetoric of transparency in favor of a storytelling practice that brings together enjoyment and reflection. Her continued combination of poetic imagination and digital media education has achieved a broad public engagement with the constraints and affordances of electronic literature."
She is Professor of Creative Writing and Digital Media at Bath Spa University as well as Director of the Centre for Cultural and Creative Industries (CCCI).
ELO is grateful to Kate for elevating and extending the art of digital writing, bringing it to new communities of readers and writers!