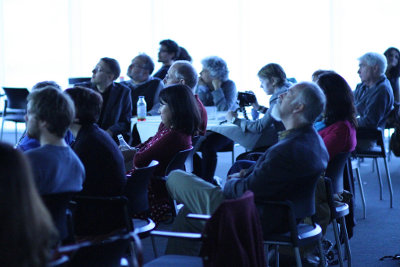 Electronic literature artists and enthusiasts gathered at MIT's new Media Lab Extension building on Monday, Sept. 19 to celebrate ELO's move its new home at the Cambridge, Massachusetts campus. The "Open Mic/Open Mouse" saw artists from MIT and abroad showcasing their work, from interactive poetry from ELO board members Fox Harrell and Robert Kendall to a series of web pages telling the tale of life at MIT – from the perspective of a student's cat. John Cayley and his students from Brown University made the trek up to Cambridge from Rhode Island for the event.
| | |
| --- | --- |
| Fox Harrell, ELO Board Member | Robert Kendall, ELO Board Member |
| Christine Yu | Andrew Plotkin |
Colors and photographs swirled on the screen to music and sound effects in the party atmosphere of the launch. It was a chance for faculty and students alike to share their creativity with the eliterature community, a perfect way to welcome ELO to MIT. "The Electronic Literature Organization is very pleased to have its headquarters at MIT, and is looking forward to a long and productive partnership," said Nick Montfort, ELO president.
The event was part of the Purple Blurb series, coordinated by Amaranth Borsuk. It was sponsored by the Angus N. MacDonald Fund and the Council for the Arts at MIT.
The ELO is sponsored by MIT's CMS, SHASS, WHS, and LIT@MIT. Collaborations are underway with GAMBIT, the MIT Libraries, and ACT.