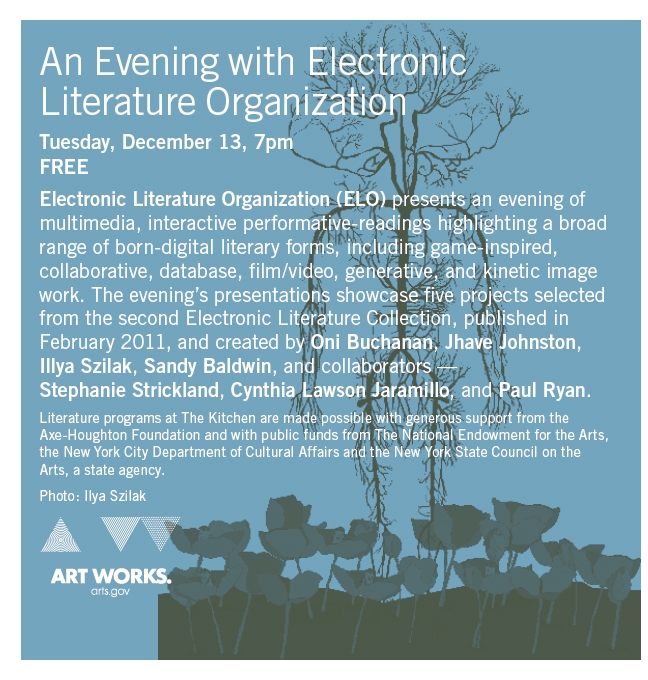 You are invited to another launch of the Electronic Literature Collection, volume 2, this time at The Kitchen performance space (512 W. 19th Street, NYC) with a reading on Tuesday, December 13, 2011 at 7pm.
Featuring 5 works by:
Oni Buchanan
Jhave Johnston
Illya Szilak
Sandy Baldwin
Stephanie Strickland, Cynthia Lawson Jaramillo, & Paul Ryan
ELC/2 includes 63 works in 6 languages from 16 countries. An astounding variety of forms and genres are included: text movies, interactive fiction, poem generators, codework, animations, Second Life excursions, chatbot drama, augmented reality, and games—to name a few. There are works of poetry, narrative, documentary critique, drama and creative non-fiction for screen, gallery, and virtual environment. The Keyword glossary inside each Collection provides definitions of new forms and software, and each of the works is introduced briefly both by the editors and by the authors.
About The Kitchen:
The Kitchen is a non-profit, interdisciplinary organization that provides innovative artists working in the media, literary, and performing arts with exhibition and performance opportunities to create and present new work. Using its own extensive history as a resource, the organization identifies, supports, and presents emerging and under-recognized artists who are making significant contributions to their respective fields as well as serves as a safe space for more established artists to take unusual creative risks.