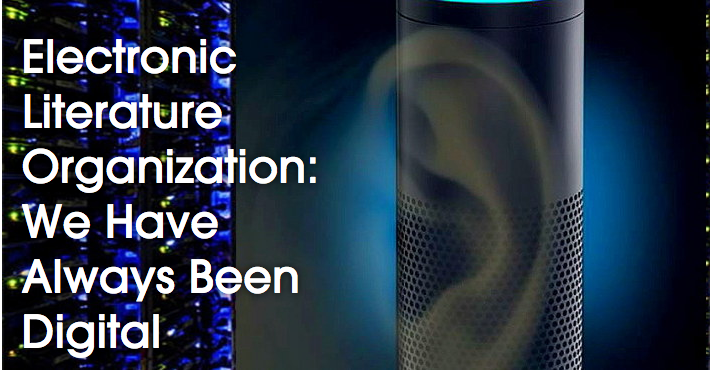 If you're in NYC (or near enough to hop a train), join us for We Have Always Been Digital, at The Kitchen.  ELO President Dene Grigar will be there with hard copies of ELC3  (announcement forthcoming) and previous collections for the first people to sign up as members.
Come for a night of e-lit wonderment and (re)join an international organization of artists and scholars in ELO!
http://www.thekitchen.org/event/electronic-literature-organization-we-have-always-been-digital
Announcement:
The Electronic Literature Organization (ELO) presents performances of digitally-born writing and poetry. Curated by Illya Szilak, this afternoon of interactive presentations showcases a range of dynamic forms from bots and games to interactive online works, and offers audience members the chance to engage with works and authors after the performances.
Artists include: Abraham Avnisan, Amaranth Borsuk, John Cayley, David Clark, Caitlin Fisher, Ian Hatcher, Porpentine Charity Heartscape, Flourish Klink, Tan Lin, Nick Montfort, Kia Miakka Natisse, Allison Parrish, and others.
September 10, 1–6pm, FREE
512 West 19th Street, New York, NY 10011
This event is made possible with support from Axe-Houghton Foundation and Lambent Foundation Fund of Tides Foundation, and in part by public funds from New York City Department of Cultural Affairs in partnership with the City Council and New York State Council on the Arts with the support of Governor Andrew Cuomo and the New York State Legislature.