ELO 2018:
Attention à la marche / Mind the Gap
Literature meets digital culture in Montreal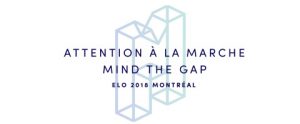 https://sites.grenadine.uqam.ca/sites/nt2/en/elo2018
August 13-17, 2018
For Immediae Release
Montreal, Aug 3, 2018 – For the first time, Montreal is hosting the Electronic Literature Organizations Conference. With this year's theme Attention à la marche / Mind the Gap, this bilingual event will focus on the unique dynamics of electronic literature research in Quebec with an eye toward innovations from around the world.
The Canada Research Chair in Digital Arts and Literature, NT2, Laboratoire de recherche sur les oeuvres hypermédiatiques, the Electronic Literature Organization (ELO) and the Consulate General of France welcome more than 300 digital artists and researchers from some thirty countries at the Université du Québec à Montréal campus from August 13 to 17, 2018.
The conference has three components: an academic conference, an exhibition and a festival. The exhibition will be presented at the Centre de design of UQAM and includes 56 works of digital art by local and international artists. During the festival, 15 artists will offer multimedia performances in three Montreal cultural halls: the Eastern Bloc artists' centre, Concordia University's Black Box exhibition hall; and the Écomusée du fier monde.
For the occasion, Productions Rhizome from Québec City present the installation Choeur(s), while Brazilian artist Eduardo Kac will unveil his latest work, The Inner Telescope, produced in collaboration with French astronaut Thomas Pesquet aboard the International Space Station.
The opening reception of the conference will take place on August 13th, starting at 6pm, at the Centre de Design. For more details, see the website.
Academic conference: pre-registration required
Exhibition and festival: open to the public
Opening reception: by reservation
For more information or to make a reservation please contact:
ARIANE SAVOIE
elo2018mtl@gmail.com       http://nt2.uqam.ca/       https://eliterature.org/