ELO is pleased to announce the addition of three new members to its Board of Directors: Lai-Tze Fan, Erika Fülöp, and Reham Hosny.  These top scholars and artists extend ELO's global representation as they reside in Canada, England, and Egypt, respectively.
ELO President Leonardo Flores welcomed the new members, saying, "We had a great community response to our first-ever open Call for Nominations resulting in a wonderful lineup of dedicated scholars and artists in the field. After much deliberation and keeping in mind our goal of continuing to diversify the Board of Directors, we chose three great scholars who will bring new energy and perspectives to our governing body. I am looking forward to collaborating with our new Directors! And huge thanks to all who put their names forth or accepted nominations. We will seek opportunities to get you involved in our projects!"
ELO has an all-volunteer board of members who serve renewable three-year terms. These new directors, for the first time, were drawn from a set of nominations from ELO's members.  The organization continues to work to make this process more inclusive and transparent and is very pleased with the results.
Meet the new Board Members:
Lai-Tze Fan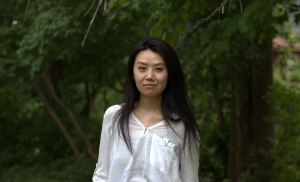 Dr. Lai-Tze Fan is an Assistant Professor of Technology and Social Change in the Department of Sociology and Legal Studies at the University of Waterloo, Canada. Fan is an interdisciplinary researcher who combines the fields of media studies, science and technology studies, digital storytelling, critical design, and cultural studies. Her research appears in the journals Mosaic, Convergence, Media Theory, and elsewhere.
Fan is also a practitioner of art installations, digital textuality and writing, interactive games, and critical making, with 15 solo and collaborative works of research-creation. With Nick Montfort, she created "Dial" (2020), a generative emoji-embedded poem representing networked, distant communication. With Anne Sullivan and Anastasia Salter, she created Masked Making (2021), a generative work that captures both the imagined making and fragments of text that represent the invisible faces, hands, and labour of women's mask making during the COVID-19 pandemic. Also of note are video games for children's health research that Fan helped design with the international Breathing Games Commons, as well as a smart phone application called Global Urban Wilds (2021) that she helped develop for the city of Montréal.
Fan currently serves as an Editor and the Director of Communications for the open-access journal electronic book review and Editor of the multimodal journal the digital review. She edited a special double issue of both journals called "Critical Making, Critical Design" (September 2021), which was funded by the Social Sciences and Humanities Research Council (SSHRC) of Canada. She also co-edited a special journal issue of electronic book review on "Canadian Digital Poetics" (February 2021). She is Co-Editor of the collection Post-Digital: Dialogues and Debates from electronic book review (Bloomsbury 2020).
Erika Fülöp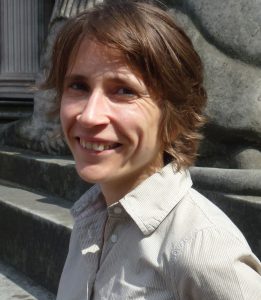 Erika Fülöp is Senior Lecturer in French Studies at Lancaster University. She previously held a Lectureship at New College, Oxford (2012-13) and an Alexander von Humboldt Research Fellowship at the Interdisciplinary Center for Narratology at the University of Hamburg (2013-15). Since her doctoral thesis and first monograph on Proust and philosophy titled Proust, the One, and the Many: Identity and Difference in À la recherche du temps perdu (Oxford: Legenda, 2012), she has been exploring increasingly recent and increasingly diverse modes of writing and authorship that question and expand the concept of writing and literature, including interferences between print books and networked writing, the impact of social networks on authorship, video writing on YouTube, and digital poetry and its translation. She has run several projects and conferences around these subjects, including Screening the Literary (2016-17) and The Creative Web of Languages (2017-19). In 2020 she completed a monograph co-authored with Gilles Bonnet and Gaëlle Théval on French creative literary experimentation on YouTube ('Qu'est-ce aue la LittéraTube?'), and in 2021, adventured into learning to code & co. thanks to an EPSRC grant in order to carry out truly interdisciplinary research and analyses of electronic literature. You can find her research and learning diary here.
Reham Hosny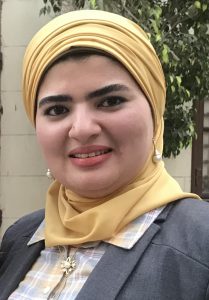 Dr. Reham Hosny is an Assistant Professor in English literature at Minia University, Egypt and previously, she was a Lecturer at the University of Leeds, UK. Her research focuses on creating links between the well-established western electronic literature communities and the growing digital culture innovators of other underrepresented communities. She is particularly interested in investigating the cultural, social, and political contexts of Arabic and Anglo-American electronic literature. Additionally, she is a creative writer. She is directing arabicelit, the first initiative focusing on globalizing Arabic electronic literature in the English language. She is an international consultant for the Electronic Literature Organization's ELC4. She was also a co-organizer of the first international conference on Arabic electronic literature at RIT-Dubai, Feb. 25-27, 2018. She initiated and co-delivered the first electronic literature workshop in the Arab World and co-curated the first electronic literature exhibit in the Arab World at RIT-Dubai in 2018. She initiated the first autobiographical collection of Arab electronic literature authors on the ELMCIP knowledge base in 2015. She spent two years as a visiting scholar at College of Liberal Arts at RIT-New York and West Virginia University. She is an invited speaker in many international conferences, workshops, and symposiums at different places around the world such as the USA, the UAE, the KSA, Canada, Scotland, Norway, Egypt, Jordan, and the UK. She is a member of different international research networks such as the Intersections, Feminism, Technology & Digital Humanities network (IFTe) funded by UKRI-AHRC and the Irish Research Council. She is also a member of the Global AI Narrative (GAIN) network in the MENA region. Besides her scientific achievements, she received the Ihsan Abdel Quddous Literary Prize for short story writing for her short story collection Amma Ba'd (and thereafter) (2012). She also wrote Al-Barrah (The Announcer), the first Arabic artificial intelligence novel, in collaboration with Mohamed A. Nasef (2019, 2021). For more information, you can visit her personal website.
Leaving the Board
After years of service, a few Board members have also stepped down, including Helen Burgess, Serge Bouchardon, Stuart Moulthrop. We thank them for their service and their generous contributions of their time and talent.