Announcing International Awards in Electronic Literature: The 2018 ELO Prize
— Montreal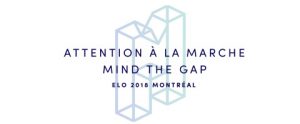 Literature is changing right in front of our eyes, and this year's awards from the Electronic Literature Organization celebrate artists and scholars who are at the vanguard.
At the annual conference of the Electronic Literature Organization (ELO), held this year in Montreal, Quebec, President Dene Grigar announced the 2018 ELO Prize winners: Will Luers, Hazel Smith, and Roger Dean for Novelling, Joseph Tabbi and contributors for the Bloomsbury Handbook of Electronic Literature, and N. Katherine Hayles. Honorable Mention winners are María Mencía and Otso Huopaniemi. The shortlisted authors include JR Carpenter, Judy Malloy, IP Yuk-Yiu, Stephanie Boluk and Patrick LeMieux, and Stuart Moulthrop and Dene Grigar.
For more details, see below:
The Robert Coover Award for a Work of Electronic Literature honors the year's best work of electronic literature, of any form or genre. The prize for 1st place comes with a $1,000 award.
Three works were shortlisted works for the Coover Award:
R. Carpenter, This is a Picture of Wind
Judy Malloy, Arriving Simultaneously on Multiple Far-Flung Systems
IP Yuk-Yiu, BOOK OF A HUNDRED GHOSTS 百鬼书
Honorable mention for the Coover Award goes to María Mencía for "The Winnipeg: The Poem that Crossed the Atlantic"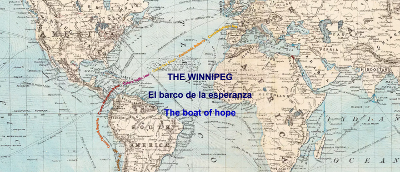 "The Winnipeg" combines family history, collective memory, archival research, and digital poetics to commemorate the rescue of thousands of Spanish Civil War exiles from French concentration camps in 1939. One juror described "The Winnipeg" as "a compelling trilingual project that merges kinetic poetry and narrative."
The first place winner of the Robert Coover Award is Novelling by Will Luers, Hazel Smith, and Roger Dean.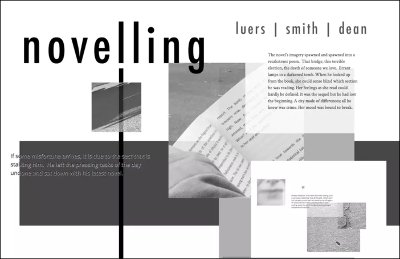 Novelling is a recombinant digital novel about fiction itself, and how we read and how we write it. Though Novelling unfolds through the perspective of four characters—a familiar narrative technique—by procedurally remixing audio, video, and text, Novelling ultimately challenges our expectations of fiction, not to mention authorship itself.
The N. Katherine Hayles Award for Criticism of Electronic Literature honors the best work of criticism of electronic literature of any length. Endowed through a generous donation from N. Katherine Hayles and others, this annual prize recognizes excellence in the field. The Prize for 1st Place comes with a $1,000 award.
Two works were shortlisted for the Hayles Award:
Stephanie Boluk and Patrick LeMieux, Metagaming: Playing, Competing, Spectating, Cheating, Trading, Making, and Breaking Videogames (University of Minnesota Press)
Stuart Moulthrop and Dene Grigar, Traversals: The Use of Preservation for Early Digital Writing (MIT Press)
Honorable mention for the Hayles Award goes to Otso Huopaniemi, "Algorithmic Adaptations | Algoritmiset adaptaatiot"

"Algorithmic Adaptations" is born-digital scholarship, a beautifully designed piece of bilingual, multi-modal web-work. As one of the Hayle jurors put it, "Huopaniemi continues to open our field to practices and engagements less integrated than those that have established it academically, like theater, live performance, and translation."
The first place winner of N. Katherine Hayles Award is The Bloomsbury Handbook of Electronic Literature, edited by Joseph Tabbi and published by Bloomsbury Academic Press.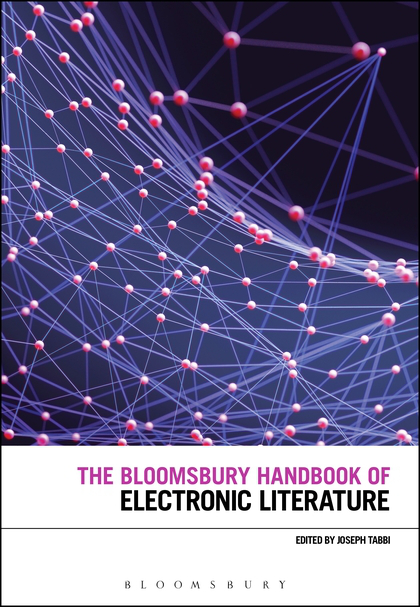 Over 20 authors, reflecting several continents and disciplines contributed to The Bloomsbury Handbook of Electronic Literature, debating and analyzing electronic literature with both specific case studies and more general birds-eye perspectives. One of the Hayles jurors called this work a "monumental handbook for electronic literature." In this nearly 500-page volume the authors, as one juror puts it, "realize their deep affection for generative intellectual work and aesthetic agonism."
The Marjorie C. Luesebrink Career Achievement Award honors a visionary artist or scholar who has brought excellence to the field of electronic literature and has inspired others to help create and build the field. Bestowed by the Electronic Literature Organization and funded through a generous donation, it comes with a $1,000 award that can go directly to the awardee or to a young scholar who would use the funds in support of developing online material about the awardee's achievements.
The Artist or Scholar selected for this award should demonstrate excellence in four or more of the following categories:
Creation of opportunities for younger scholars
Publication of influential academic studies of electronic literature
Practice-based artistic research in the field, with significant presentations and exhibitions of creative work
Curatorial activities, particularly including editing and the organization of exhibitions, conferences, workshops, roundtables and research groups
Preservationist work, whether individual or institutional
Active participation in conferences and exhibitions, both national and international
Contribution to ELO as an organization, whether as a member of the Board of Directors or Literary Art Board or as informal advisor
We are delighted to announce this year's winner of the Marjorie C. Luesebrink Career Achievement Award, N. Katherine Hayles.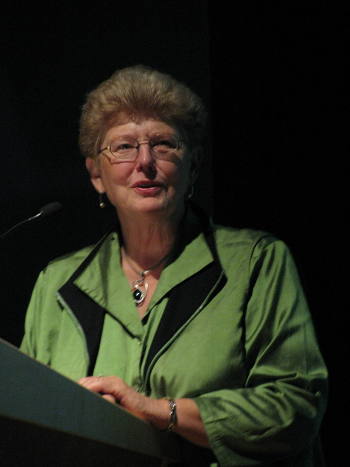 One of Hayles' nominators highlighted the many ways Hayles' has shaped the field of electronic literature: "her books in particular have guided the research of a generation of electronic literature scholars and brought attention and recognition to the field. She has been a visible presence and advocate for researchers and artists both within the community and in related organizations, including the Modern Language Association and the Association for Computers in the Humanities. A decade later, her book Electronic Literature: New Horizons for the Literary continues to be referenced and relied upon. Her work as one of the editors of the first Electronic Literature Collection helped build the initial canon for our discipline, and remains crucial as an archival project and entrypoint into historical discussions of electronic literature." Or, as one of the jurors put it: Hayles' "contributions have been so massive for so long."
ELO awards these prizes at its annual conference. The next conference will be held in Cork, Ireland. The call for next year's awards will be issued months before via the ELO's site and social media channels.
The Electronic Literature Organization, or ELO, is A 501(c)(3) non­profit organization composed of an international community that includes writers, artists, teachers, scholars, and developers. The Organization's focus is new literary forms that are made to be read on digital systems, including smartphones, Web browsers, and networked computers. ELO is an international organization of artists and scholars, currently based at Washington State University, Vancouver.
For more information about the ELO Prizes, contact Nicholas Schiller, ELO Coordinator at eliterature.org at gmail.com, or Mark Marino at markcmarino at gmail.com.