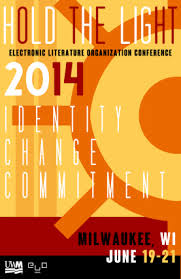 This week we preempt our Summer eReading series to bring you a host of works featured in the 2014 ELO Conference: Hold the Light June 18-21 in Milwaukee, Wisconsin. Â And conference organizers Stuart Moulthrop, Marjorie Luesebrink, Sandy Baldwin, and Kathi Inman Berens have brewed up a lake of Milwaukee's finest. Â You can download the full program.
The conference features three electronic galleries.  The first is on-site, featuring a wide variety of works by new and established authors. The second is online, the Media Arts Gallery, featuring a virtual exhibition of the works from the juried show.  The third is the Gallery of E-Lit 1st Encounters, which feature first time e-lit authors – or at least those new to ELO.
Organized by Kathi Inman Berens and vetted by the gallery jurors, the various exhibition halls have much to dig into even if you can't make it to Milwaukee. If you can make it, you are in for a wonderful set of panels, roundtables, keynotes, and evening performances.  See the full schedule here.
And stay tuned.  On Friday, at the banquet, the winners of the N. Katherine Hayles and Robert Coover prizes will be announced.  You'll find out who won if you follow the #elo14 hashtag or the @eliterature Twitter account.
You'll also find updates in the Facebook group as well.